Wood Fireplace Services in Bucks County, PA
There's something utterly captivating about the crackle and pop of a wood fire. This time-honored tradition of using wood burning fireplaces has been kept alive in many homes in Bucks County, PA, where the glow of a roaring fire creates a cozy ambiance that's hard to beat. If you feel that your home is lacking in warm ambiance or your existing wood fireplace has seen better days, E&E Chimney Sweeps are here to help.
Our wood fireplace experts have helped countless homeowners throughout the area install, maintain, and repair their systems quickly and efficiently. Our team works with customers throughout PA and NJ, including the following communities:
Princeton
Hopewell
Robbinsville
Lawrenceville
Titusville
Yardley
Newtown
New Hope
Richboro
Holland
Levittown
Mercer County
Montgomery County
And More!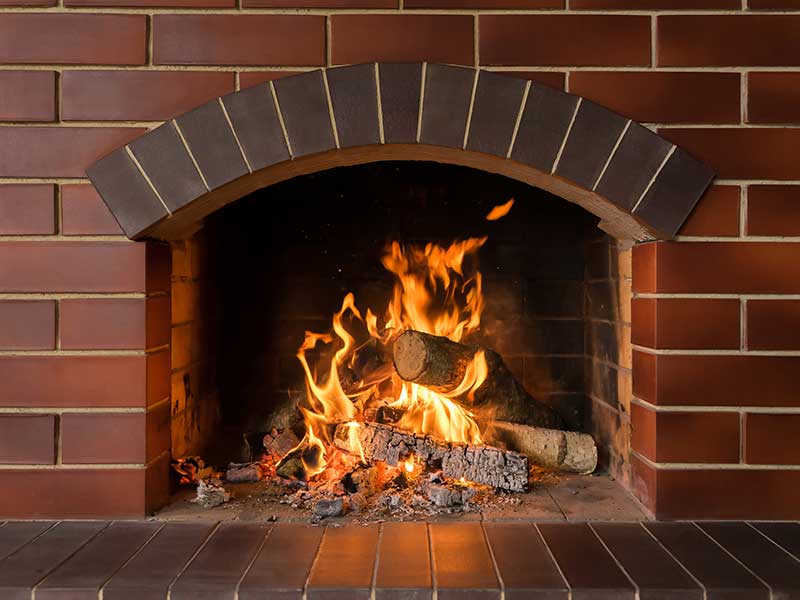 The Unique Atmosphere Wood Fireplaces Create
Wood fireplaces create a unique atmosphere that no other kind of fireplace can replicate. The scent of burning wood, the gentle warmth, and the flickering flames all contribute to a relaxing and inviting environment. We can help give your home a dose of warmth and comfort with an elegant wood fireplace.
The Joy of a Wood Burning Fireplace
The experience of a wood burning fireplace goes beyond just heat. It's about the ritual of chopping or buying the wood, building the fire, and watching it burn. It's a tactile, engaging process that many people find incredibly satisfying. A wood burning fireplace can quickly become the centerpiece of your home, and you want to ensure it's installed by the best in the area. Our fireplace services in Bucks County,
Why Choose Wood Burning Fireplaces?
Wood-burning fireplaces offer several advantages. Aside from the aesthetic appeal, they also provide a reliable source of heat during power outages, making them a practical choice for those cold Bucks County winters. We'll install your dream wood fireplace and help ensure it can withstand the rigors of regular use. Our chimney inspections will identify potential issues before they can worsen and ruin your entire fireplace and chimney system.
Making the Most of Your Existing Fireplace
If you have an existing fireplace that's looking a little worse for wear, don't despair. With a bit of TLC, your old fireplace can be transformed into an efficient and attractive feature in your home. You could consider adding gas logs for convenience or investing in a new grate and fireplace tools.
The Role of Your Current Chimney
Your existing chimney plays a vital role in the safe operation of your wood fireplace. Regular inspections and cleaning are crucial to prevent dangerous creosote build-up and ensure proper ventilation. Whether you're looking to install a new wood fireplace or repair your existing one, we'll work within your home's unique situation to find a solution that makes the most sense for your property.
Embrace the Warmth of a Wood Fireplace With E&E Chimney
A wood fireplace can transform your Bucks County home into a warm, welcoming haven. Whether you're renovating an existing fireplace or considering a new installation, the charm and comfort of a wood fireplace are unrivaled. We have helped countless people throughout PA and NJ with our wood fireplace services, including Princeton, Hopewell, Robbinsville, Lawrenceville, Titusville, Yardley, Newtown, New Hope, Richboro, Holland, Levittown, Mercer County, and Montgomery County.
Ready to embrace the warmth and charm of a wood fireplace? At E&E Chimney Sweeps, we offer a range of services to help you make the most of your fireplace. Whether you need advice on wood burning, help with fireplace maintenance, or are looking to install gas fireplaces, electric fireplaces, and more, our team of experts is here to help. Contact us today to find out more!