Electric Fireplace Services in Bucks County, PA
Electric fireplaces have become an increasingly popular choice for homeowners. They offer the charm and warmth of traditional wood burning fireplaces without the mess or maintenance. For residents in Bucks County, PA, E&E Chimney Sweeps is your go-to source for all things related to electric fireplaces.
Our electric fireplace installers have helped countless homeowners throughout New Jersey and Pennsylvania counties with their electric fireplace needs. Whether you need to install, repair, or maintain your system, our experienced chimney sweeps are ready to help. We have helped customers throughout the area, including the following PA and NJ communities:
Princeton
Hopewell
Robbinsville
Lawrenceville
Titusville
Yardley
Newtown
New Hope
Richboro
Holland
Levittown
Mercer County
Montgomery County
And More!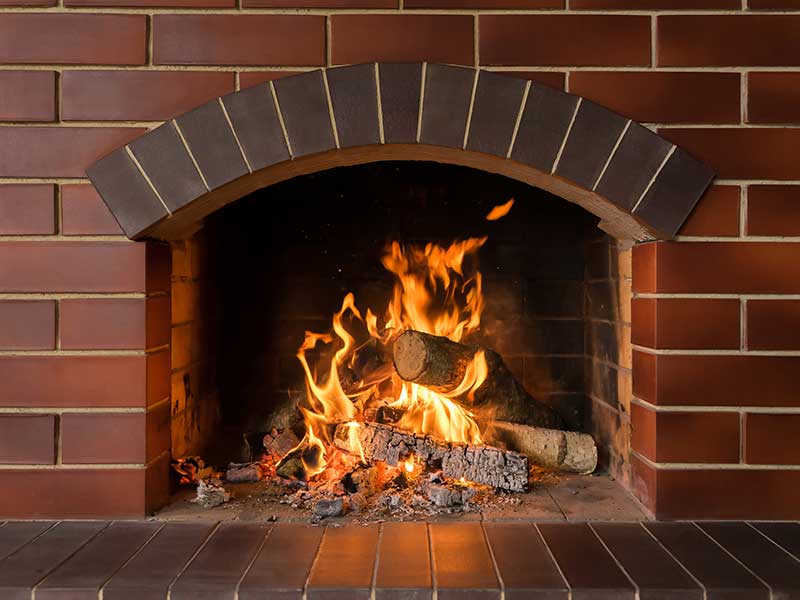 Why Choose an Electric Fireplace?
Electric fireplaces provide numerous benefits. They're easy to install, require minimal maintenance, and are incredibly efficient. Plus, with an electric fireplace insert, you can easily convert your existing fireplace into an electric one. Our electric fireplace installers will help transform your existing fireplace into a modern, efficient style that elevates your home.
Wall Mounted Electric Fireplace: A Modern Solution
A wall-mounted electric fireplace is a modern and stylish solution that saves space while giving your home a contemporary feel. These models are sleek, easy to install, and provide a realistic flame effect. We'll ensure your modern solution stays in excellent condition for years to come.
Electric Fireplace Heaters: Warmth at Your Fingertips
For many people, wood fireplaces may present too much prep time and upkeep to be a reasonable option for the winter. However, an electric fireplace can be the answer if you still want the warmth of a roaring fire without the hassle. Electric fireplace heaters are a great way to add extra heat to your home. They not only provide a cozy ambiance but also serve as a supplemental heat source. You can control the warmth with adjustable heat settings to suit your comfort level.
Achieving a Realistic Electric Fireplace Look
While electric fireplaces may not have real flames, many models offer a very realistic electric fireplace experience. Some even have adjustable flame brightness and speed, allowing you to customize the look and feel of your fireplace.
Modern Electric Fireplace: Style Meets Function
A modern electric fireplace combines style and function. Their sleek design and advanced features provide a contemporary touch to any room while offering the practicality of instant heat. We'll help install the ideal model that matches your style preferences and help elevate your home's style.
The Most Realistic Electric Fireplace Experience
When it comes to finding the most realistic electric fireplace, it's all about the details. Look for models with adjustable flame effects, sound effects, and even the scent of burning wood for the most authentic experience.
The Perfect Electric Insert for Your Existing Fireplace
An electric insert is an excellent option if you have an existing fireplace that you'd like to convert. It's a simple, cost-effective solution that can transform your fireplace into a modern, energy-efficient feature. We'll ensure the conversion goes smoothly, and you can begin experiencing the long-term benefits of an electric fireplace right away.
Choosing the Perfect Electric Fireplace
Finding the perfect electric fireplace depends on your specific needs and preferences. Whether you're looking for a wall-mounted model, a freestanding unit, or an insert for your existing fireplace, E&E Chimney Sweeps has you covered. We'll install whatever options you wish and do what we can to help it complement your home decor precisely.
Embrace the Convenience of an Electric Fireplace with E&E Chimney Sweeps
Electric fireplaces offer a combination of convenience, efficiency, and style. Whether you're looking to install a new fireplace or upgrade your existing one, E&E Chimney Sweeps is here to help. We work with customers throughout the PA and NJ region to give them the best electric fireplace experience possible, including Princeton, Hopewell, Robbinsville, Lawrenceville, Titusville, Yardley, Newtown, New Hope, Richboro, Holland, Levittown, Mercer County, and Montgomery County. In addition to our electric fireplace services in Bucks County, PA, we also provide vital assistance with gas fireplaces, wood fireplaces, and chimney cleaning.
Our team of experts can guide you through the process and ensure you find the perfect electric fireplace for your Bucks County home. Contact us today to get started!